Chevrolet Dealer Near Star Prairie, WI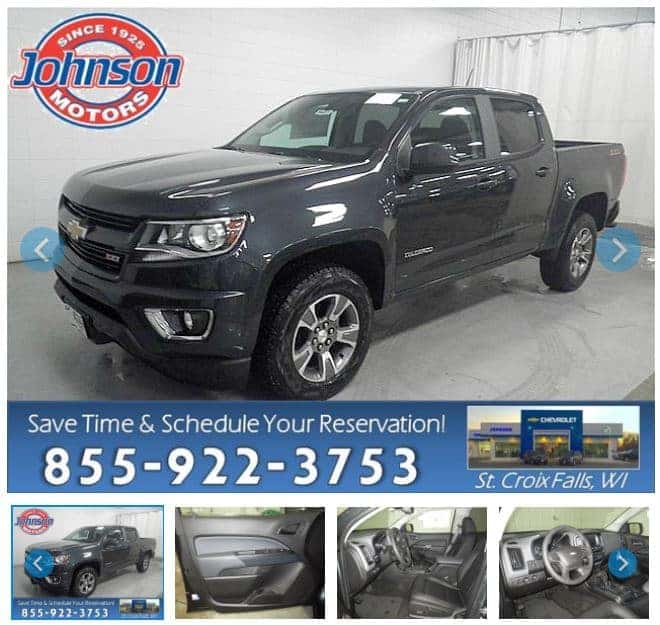 You aren't just looking for a car. You are looking for a dealer who will respect you as a person and not try to sell you what you don't need. That's why Johnson Motors has been in the business for over 100 years. As your Chevrolet dealer near Star Prairie, WI, there is nothing that we haven't seen or been asked before. So whether you need to add to your fleet or just need an upgrade, Johnson Motors is the community-minded dealership that more Star Prairie locals are choosing.
Chevrolet Bolt Near Star Prairie, WI
Electric vehicles have come in some pretty wild and futuristic styles. The Chevrolet Bolt near Star Prairie, WI brings you all the benefits of electric power without the science experiment look. Packed with all the modern features and safety that you expect from Chevrolet, the Bolt is the way forward with classy styling and 238 miles of range on a full charge. Say goodbye to the gasoline pump when you choose the Bolt from Johnson Motors.
Chevrolet Trax Near Star Prairie, WI
Ready to make tracks? The Chevrolet Trax is Chevrolet's small SUV that punches well above its weight. Agile and perfect for the concrete jungle, you can go anywhere with this efficient vehicle. Park in the tight places, turn where you need to. The Trax is just what you need when you want safety and good visibility for driving in urban environments. Test drive it today at Johnson Motors and see what it could do for your day.
Chevrolet Equinox Near Star Prairie, WI
The Chevrolet Equinox is the small SUV that has it all. Spacious and comfortable, the Equinox was voted the most dependable compact SUV. Take the whole family or load it with cargo, the Equinox will surprise you with how much room there is inside. A well-proportioned exterior with eye-catching detail gives the Equinox road presence, and with your choice of three engines, you can go your way at Johnson Motors.
Other Chevrolet Models Near Star Prairie, WI
Chevrolet Spark Near Star Prairie, WI
Chevrolet Sonic Near Star Prairie, WI
Chevrolet Cruze Near Star Prairie, WI
Chevrolet Malibu Near Star Prairie, WI
Chevrolet Impala Near Star Prairie, WI
Chevrolet Volt Near Star Prairie, WI
Chevrolet Traverse Near Star Prairie, WI
Chevrolet Tahoe Near Star Prairie, WI
Chevrolet Suburban Near Star Prairie, WI
Chevrolet Camaro Near Star Prairie, WI
Chevrolet Corvette Stingray Near Star Prairie, WI
Chevrolet Camaro ZL1 Near Star Prairie, WI
Chevrolet Corvette Grand Sport Near Star Prairie, WI
Chevrolet Corvette Z06 Near Star Prairie, WI
Chevrolet Corvette ZR1 Near Star Prairie, WI
Chevrolet Colorado Near Star Prairie, WI
Chevrolet Silverado 1500 Near Star Prairie, WI
Chevrolet Silverado HD Near Star Prairie, WI