Chevrolet Dealer Near Horse Creek, WI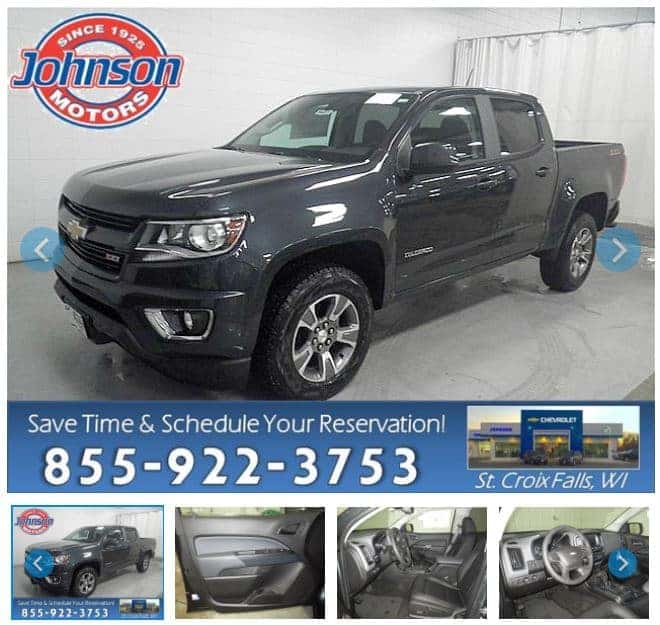 Johnson Motors is the name that you can trust. You've probably heard of us and that is because we have been the Chevrolet dealer Near Horse Creek, WI for decades. In fact, our business has been taking care of automotive business in the Horse Creek region for over 100 years. So when you want to buy from a dealer that you know will be there to look after you for servicing and maintenance for the long term, Johnson Motors is happy to make your acquaintance. Call, email, or drop in today.
Chevrolet Sonic Near Horse Creek, WI
There is more than just fun in this cheerful vehicle. The Chevrolet Sonic near Horse Creek, WI brings purpose to compact motoring. Offering more than the competitors, the Sonic delivers economical motoring, advanced safety and features that make it stand out from the crowd. Sharp, city-size, and sure to bring a smile to your face, test drive the Sonic today and see just what this 1.4L turbo has to offer at Johnson Motors.
Chevrolet Bolt Near Horse Creek, WI
Are you ready to meet the future head on? When you choose the Chevrolet Bolt Near Horse Creek, WI, you are choosing a sustainable future and the benefit of electric power to fuel your drive. Take a closer look at the Bolt. Modern style and convenience features that don't leave you wanting more. The Bolt isn't just an electric vehicle. It is the vehicle that you really want, with the bonus of being environmentally conscious. Get electrified at Johnson Motors.
Chevrolet Silverado 1500 Near Horse Creek, WI
When you need a truck, you are likely to already be thinking about the Chevrolet Silverado 1500 Near Horse Creek, WI. Chevrolet offers you the benefit of decades of reliable, class-leading pickups. More than just a workhorse, the Silverado 1500 offers you the comfort of an office on the road with tech features to keep you connected to all parts of your business. The Chevrolet Silverado 1500 is more than just muscle; find your new business partner at Johnson Motors.
Other Chevrolet Models Near Horse Creek, WI
Chevrolet Spark Near Horse Creek, WI
Chevrolet Cruze Near Horse Creek, WI
Chevrolet Malibu Near Horse Creek, WI
Chevrolet Impala Near Horse Creek, WI
Chevrolet Volt Near Horse Creek, WI
Chevrolet Trax Near Horse Creek, WI
Chevrolet Equinox Near Horse Creek, WI
Chevrolet Traverse Near Horse Creek, WI
Chevrolet Tahoe Near Horse Creek, WI
Chevrolet Suburban Near Horse Creek, WI
Chevrolet Camaro Near Horse Creek, WI
Chevrolet Corvette Stingray Near Horse Creek, WI
Chevrolet Camaro ZL1 Near Horse Creek, WI
Chevrolet Corvette Grand Sport Near Horse Creek, WI
Chevrolet Corvette Z06 Near Horse Creek, WI
Chevrolet Corvette ZR1 Near Horse Creek, WI
Chevrolet Colorado Near Horse Creek, WI
Chevrolet Silverado HD Near Horse Creek, WI