General Sales Manager | Luke Hoffmann | Johnson Ford of New Richmond

Meet Luke Hoffmann, General Sales Manager of Johnson Ford of New Richmond. With his 16 years of Ford sales experience, near the Minneapolis Metro, he brings a fresh face, new ideas and a passion to continue the focus of providing an exceptional customer experience.
After graduating from UW-River Falls in 2002, he started selling cars to make a living. Over the years he has grown his book of business into a repeat and referral career of success. By providing impressive customer service and reaching 400+ yearly sales volume, he has earned the title of the Number 1 Ford Salesperson in the Twin Cities Region from 2008-2017.
Now locally residing in the area, he enjoys hunting and spending time with his wife and two children.
When asked what brought him to Johnson Ford he said, "It all came down 2 factors: The involved ownership and impressive local reputation."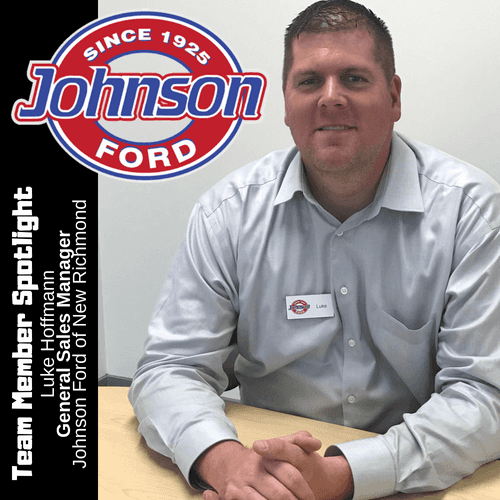 "At Johnson Ford of New Richmond, I am excited to sincerely get to know the communities we serve. With the completion of the Stillwater Crossing Bridge, and our brand new facility, I am eager for my loyal returning customers, and their families, to experience the hometown atmosphere along with the first-class experience.

Everyone, please stop by and say hello! Chances are I will probably be one of the first 2 faces to greet you on the show floor. I want to hear your feedback too, the pros and cons of anything… from waiting room treats to inventory selection. Please think of me and my team as your personal car people. " -Luke Hoffmann, General Sales Manager, Johnson Ford of New Richmond